Last night, I finally had the chance to watch the much talked about documentary The Cove. The film, for those of you who don't know, shows the annual killing of dolphins in a National Park at Taiji, Wakayama, in Japan. Migrating dolphins are herded into a hidden cove. Bottlenose dolphins are captured for shows and the others are netted and killed by fishermen using spears and knives and consumed.
I only made it 2/3rds of the way through—though I believe it is important that I watch it in its entirety plan to do so. Soon. I can't fully grasp the mix of emotions I am feeling: anger, outrage, heartbreak, sadness, sickness, despair, helplessness.
I wanted to write something about this story, but I wasn't sure what. Biologist Kevin Zelnio reviewed this documentary and shared his post with me. And I in turn am going to share it with you. It is not a hysterical "green" post—it presents the scientific implications of capturing, killing, and eating dolphins both for the Japanese and the world at large.
You may learn more about taking action
here
. Kevin's review continues below the fold.
_______________________________________________
Disclaimer: This review may not appropriate for all audiences. Certainly not anyone that is sensitive to violence against dolphins. If you think you may be too uncomfortable with this type of content, please do not read any further.
(This post originally appeared on
Deep Sea News
and is reprinted here in its entirety with permission from Kevin Zelnio.)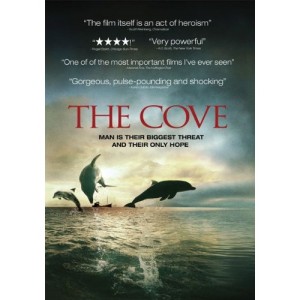 A week ago I was approached by the PR department that filmed
The Cove
, an multi-award winning documentary, to see if I was interested in reviewing the movie for my audience. I've seen the movie reviewed on other sites and Deep Sea News has taken an interest in the
issue
of
mercury
poisoning
from
fish
and
dolphin
meat
, so I was naturally curious. Sunday night I made the leap and saw exactly why this film is so talked about and why it racks up film festival awards, recently taking home an Oscar for Best Feature Documentary.
Many documentaries, especially environmental documentaries, annoy me because the end up being about the person filming it or being filmed.
The Cove
starts off about the man Ric O'Barry. Ric was the trainer for Flipper, the popular '60s TV dolphin. In the movie, Flipper is credited with generating the lust for
dolphin worship
that is today a multi-billion dollar industry based primarily upon marine mammal captivity. As Ric ironically put it, "the dolphins smile is nature greatest deception, it gives the illusion they are always happy". As the beginning progressed it became apparent that Ric's role was only one cog a greater wheel of commitment by a diverse group of talented individuals. While blatantly playing on emotion,
The Cove
was able to demonstrate the simple fact of a mass annual dolphin slaughter and the role that played throughout a local Japanese community.