What if I told you that you could have New York City at your fingertips? And you wouldn't need to be billionaire Bruce Wayne or supervillian Lex Luthor to do so. How would that change your experience of the city? Of any city for that matter? These are the questions NYC Media explored last Thursday during Internet Week with an initiative using quick response (QR) code technology in Times Square called "
The City at Your Fingertips
."
NYC Media
is the official network of the City of New York; the division consists of television, radio, and digital assets, as well as the Mayor's Office of Film, Theatre and Broadcasting. This foray into the digital realm is emblematic of the current administration in City Hall, but it also signals a more interactive experience for visitors and residents with the metropolis—a tentative merger of the online and offline experience.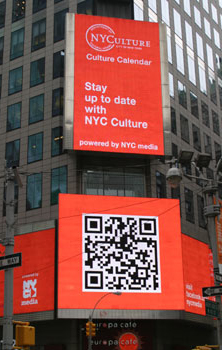 Quick Response (QR) codes are essentially bar codes that are meant to be decoded quickly, hence the name. They were originally employed for commercial purposes—tracking products, for example—but have been recently adapted for mobile users as a part of larger marketing initiatives. They have been used to store web addresses and information and have appeared on the pages of magazines, buses, signs, and more. Think of them as hyperlinks for the real world because they point users to digital stores of information about physical items.
[Left:NYCulture Calendar QR Code. Credit: NYC Media.]
Most of the QR codes direct scanners to websites for more info, although some promise a free ringtone or chance to win tickets to a Times Square viewing of the Tony Awards. Unfortunately, the QR codes miss the mark and don't provide an optimized experience for scanners on their mobile devices — which pretty much includes the entire target audience.
On a
digital signage blog
, the author also noted that NYC Media could have connected to lots of other more interesting items—interactive maps, city-based trivia games, augmented reality layers, historical images of Times Square, scavenger hunt challenges, mobile city guides, etc.—instead of just the city agencies' websites.
Okay, so it wasn't an ideal launch, especially not for a media center like New York City. It was a little disappointing. But let's examine our expectation and where they seem to stem from.
We live in an app-oriented market where the smart phone has come to be a dominant presence. At any number of the IWNY events I attended, the majority of the crowd wandered about with their iPhones and BlackBerrys in hand. And the devices were more than accessories.
People did use them. Thanks to the infinite imagination of the developers, there's an app for just about everything. People checked in via FourSquare (there was a special
IWNY app
that let you check-in to events around the city as well), they bumped contact information, they took photos with new friends, found bars for meetups, looked up directions, and more. Given the availability and accessibility of this technology, Mashable's criticism is fair in that NYC Media did not give the public something new. Smart phone users can easily get to websites via the browsers on their devices. We are so well connected to information that we seem to expect (or demand) perfect opportunities to streamline information. And this isn't necessarily a bad thing. The expectation that information will be readily and easily accessible is an extension of the message that time is a serious commodity. We want the most for our time, which perhaps suggests that the criticism should emphasize not so much the information offered, but the lack of options concerning the information—linking to the agencies' websites is only one option. But what the criticism ignores is that NYC Media offered was the potential to change the way New York City as an entity interacts with the people on the street—and that
is
exciting.
[Right: iPhone screenshot of IWNY app. Credit: Gloto Corp.]
How many New Yorkers know what
NYCulture Calendar
is? (You may be asking how many care—I can hear you, Reader—but for to take advantage of resources, they need to know that said resources exist.) It's a chance to raise awareness for residents, but it's also a remarkable opportunity to welcome visitors to the city. It has the potential to take tourism to another level. Imagine stepping off the plane in Egypt or Sweden or Germany and having a means of accessing important and hospitable agencies that could enhance your visit. Or having access to your national embassy in this way. The codes themselves transcend language, encouraging a global stance for a city—though admittedly, translations are needed so that people know
what
the codes are connect to, but once you have them and you understand them, they open doors to the city that you may not have known existed or could offer as much as they do.
New York City is expanding its digital presence in many ways. In addition to "The City At Your Fingertips,"
NYC Business Express
was also on hand to talk about the convenience and accessibility offered for NYC businesses via a specially crafted online portal. Executive director of
Small Business Services
Emily Newman was stationed at the portal demo during Internet Week to help raise awareness about new features. Designed to help local entrepreneurs get started, the portal is meant to minimize the back and forth often required between start-ups and the city so that necessary paperwork gets filed. NYC Business Express provides a place to access forms and business records with minimal hurdles. It generates a tailored response to business needs so that each owner has an optimal experience with the city. It also marries two of the present administration's goals: economic development and media, and the result is something that adds a level of transparency to business and bureaucracy for the business owner.
New York City's digital endeavors provide glimpses at ways these technologies can be harnessed to strengthen the reputation of the metropolis as a friendly and accessible place that encourages success. Time will tell whether city agencies are able to fully wield this potential.